Breakthroughs in Blockchain—Event Recap
At David Aplin Group, 2018 has already proven itself as a benchmark year in
Information Technology recruitment
. We've been helping teams grow and scale their businesses across verticals and across geography at a record pace.

Undoubtedly, one of the biggest factors behind the incredible growth in the Atlantic Canadian tech scene has been the emergence of blockchain technology. On October 2nd, the Halifax David Aplin Group team was thrilled to host a premier event celebrating the latest and greatest in blockchain work being done here in Nova Scotia. The event, Breakthroughs in Blockchain, boasted many of the biggest names in the Atlantic Canadian blockchain scene with Jonathan Baha'i of eXeBlock, Dawn Jutla of Peer Ledger, Daniel Faria of Nodalblock, and Vijai Karthigesu of UBIQUE Network, sharing the stage together for the first time ever.
"Canada is already a global leader in blockchain technology, and therefore has an exciting opportunity to leverage that platform and to compete on a global stage." – Jonathan Baha'i, eXeBlock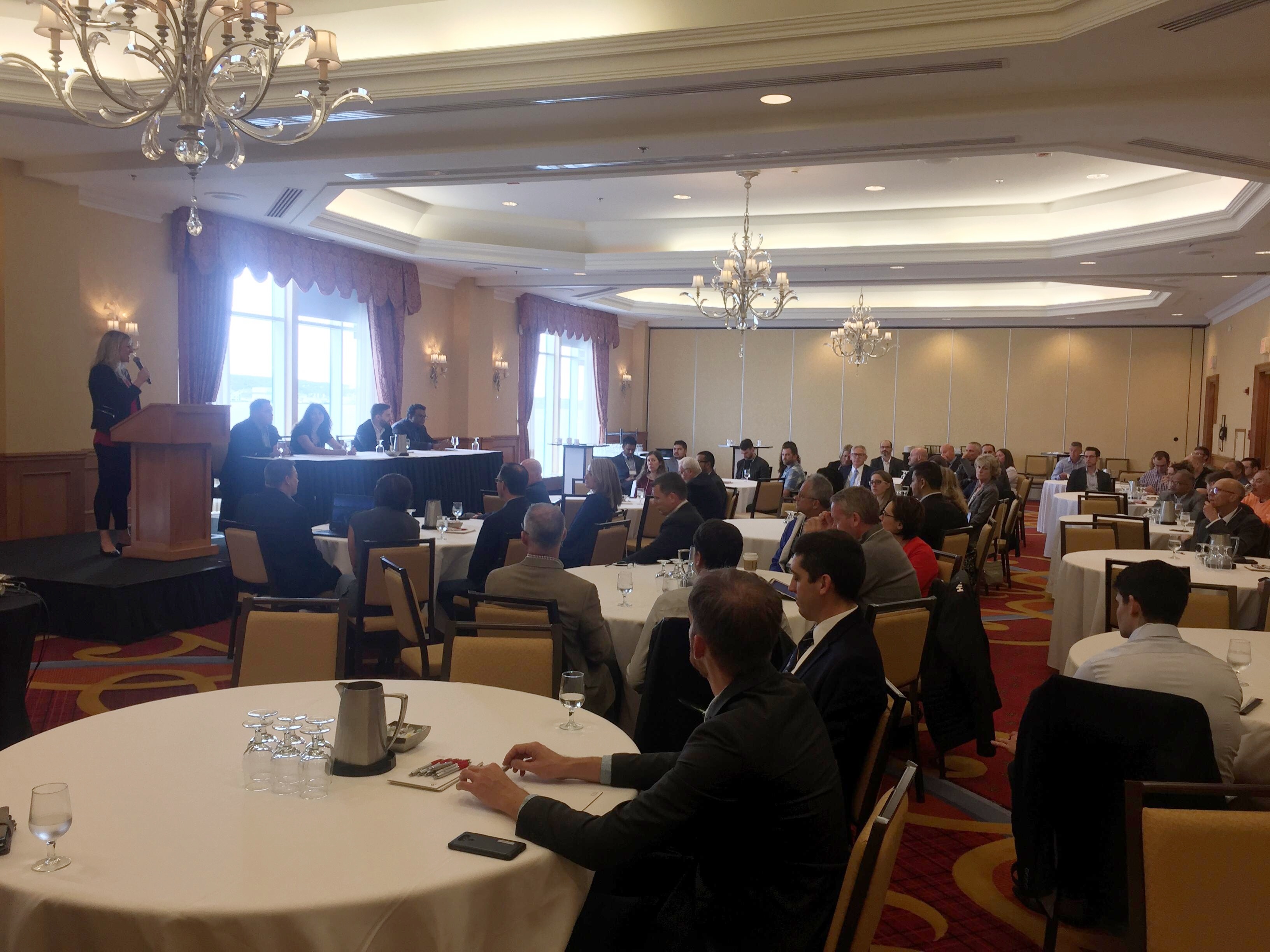 Through an interactive panel discussion facilitated by Christine Hamblin, Breakthroughs in Blockchain delivered industry-inspired insight from four blockchain thought leaders and highlighted their entrepreneurial spirit that's pushing blockchain's boundaries. Balancing real-world use cases and business development-focused interests, the event provided clarity to businesses wishing to harness the potential of this emerging technology. One common thread raised amongst the panellists was the ability of home-gown Nova Scotian teams being able to compete and make significant inroads in blockchain tech on a global scale. Although the panellists had some spirited debate (private vs. public blockchains, etc.), they were all bullish on blockchain's potential for businesses, consumers, governments and citizens.
"Blockchain is not an 'IT problem' – it's a business transformation." – Vijai Karthigesu, UBIQUE Networks
Blockchain Technology in Atlantic Canada
With the likes of Karthigesu, Faria, Jutla and Baha'i on the stage, this was the first event of its kind in Atlantic Canada showcasing the thriving blockchain tech scene. The afternoon kicked off with panel presentations and live demonstrations, followed by a Q&A session and a networking reception hosted at the Halifax Marriott Harbourfront Hotel overlooking the beautiful Halifax Harbour. During the panel discussion, the audience heard firsthand about:
Real-life applications of blockchain from four diverse Atlantic Canadian companies who are competing on a global stage.
How blockchain technology integration can benefit their business.
The challenges and opportunities for a startup company working with emerging technology.
Strategies for recruiting top talent with unique skill sets.
The different uses of blockchain across a vast number of industries.
The future of blockchain in Atlantic Canada and across the world.
The Power of blockchain
The panel highlighted the diversity of these companies' businesses and product lines, but also many similarities as well. The challenge of finding relevant talent through recruitment and navigating a rapidly changing regulatory environment was raised at a number of points. However, the opportunity to come together, share knowledge and collectively tackle problems proved to be a valuable outcome for those on the panel and in attendance. From lobster tracking to e-sports and online ID management, the panel demonstrated the trans-formative power that blockchain holds for businesses around the world.
The Aplin team was elated by the response to Breakthroughs in Blockchain, and has continued to position itself as the go-to firm for blockchain and technical recruitment in Atlantic Canada as well as across the country.
Testimonials From Attendees at This Year's Event
"Breakthroughs in Blockchain was a must-attend event for entrepreneurs, technologists, and business in the cryptocurrency and blockchain application space." – Attendee

"The interesting thing about the event is that it's brought together people from various different industries and multiple sectors to figure out how this technology can be deployed." – Attendee
About David Aplin Group
David Aplin Group is a full-service recruitment solution provider for both temporary and permanent roles and is one of the largest Information Technology-focused recruiting firms in Atlantic Canada. With over 40 years of experience, offices coast to coast, a senior team of deeply specialized recruiters and extensive local, national and global networks – we help our clients in Atlantic Canada find the absolute best talent. Please visit www.aplin.com for more info.